marketing materials & Promotional items
Montessori Marketplace
Montessori Marketplace is your one-stop-shop for ordering and re-stocking bulk marketing materials and promotional products. 
This items in this store are for Guidepost Montessori, Academy of Thought and Industry, and Central team members.
Swag Stores
Our external facing swag stores were designed to share with parents, purchase gifts for guides, and shop for yourself. These stores are NOT free and all items purchased through the sites will need to come out of your school budget.
See the main navigation for links to each store or click on the button below for more information.
Click here to Visit the swag store know-how
Explore marketing materials by brand:
View the popular categories below, or use the search bar above to lookup specific products.
Guidepost Montessori: Popular Categories
Academy of Thought and Industry: Popular Categories
Canva tutorial
Looking for editable flyers and graphics?
Learn how to create customized templates for your school using the Canva website.
Know-how
Assembling Tour Folders
Watch this video to understand how to assemble tour folders and the print materials that go inside.
Featured product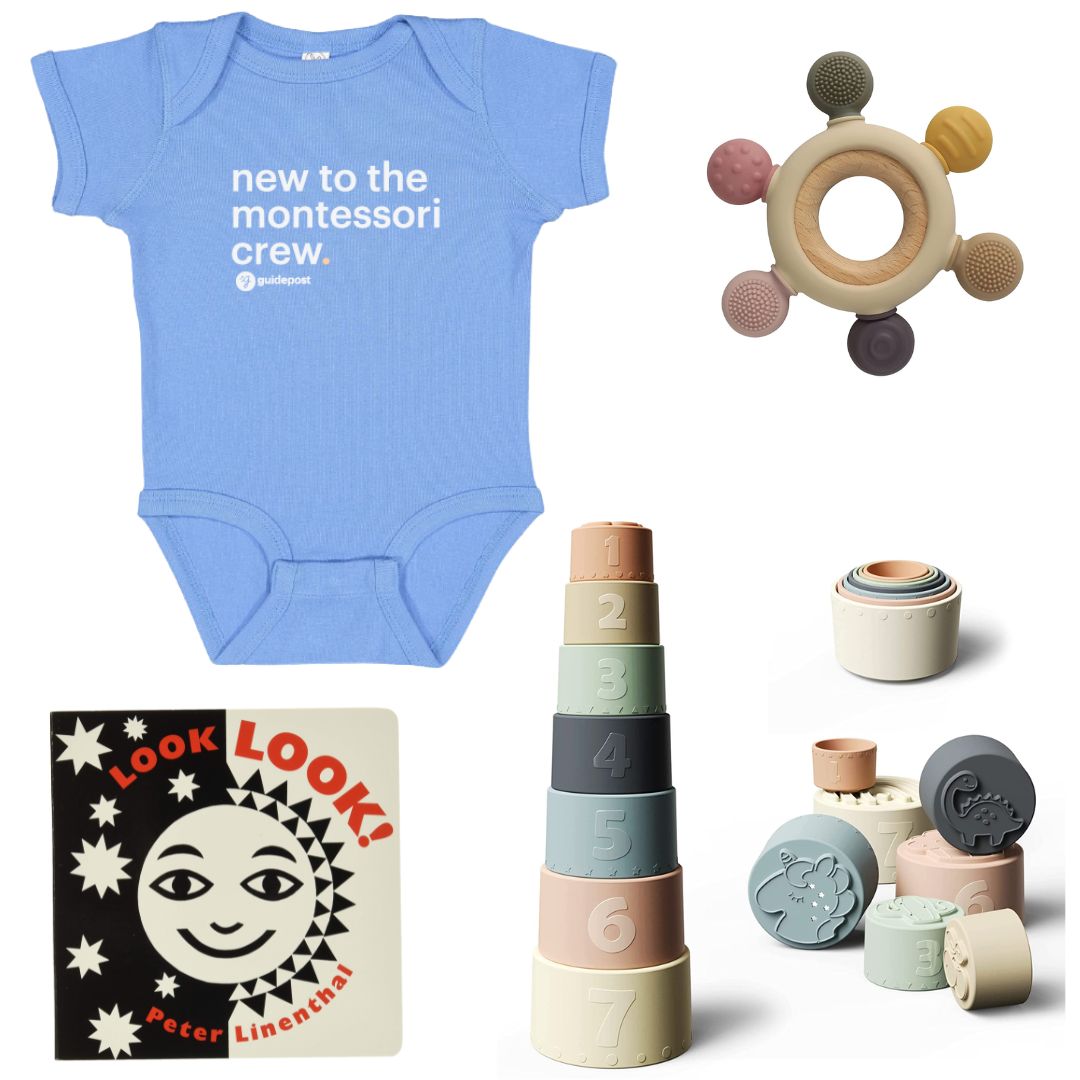 Guidepost Promo - Staff Expecting Gift
*This gift is for Guidepost Staff ONLY! Please do not gift these items to expecting parents*
This gift box includes:
"New to the Montessori crew" onesie in size 0-6 M
Moonkie baby stacking cups

Silicone teether

Book: Look Look by Peter Linenthal
Purchase one of these gifts for expecting staff members and make a memorable impression!
Step-by-step guides
Event Excellence
Your guide to hosting the best events at your school.
Ordering Business Cards
Use our editable templates to create customized business cards and purchase through Vista Print for quick and hassle free ordering.
Designs available for: Guidepost, ATI, HGE, PMI, and Montessorium staff.
Click Here to Get Started
Ordering Badges & Lanyards
We are excited to offer customized badges and lanyard for all Guidepost staff and ATI staff, students, and virtual students.
Please follow all of the directions on the next page to ensure correct names, head shots, and titles are entered prior to submitting your order.
Click here and Order today
Creating Welcome Kits for New Families
Welcoming new families and guides on campus is an exciting time. In an effort to ensure you have professional, high-quality materials to gift new children and their parents, we've created a guide to creating welcome kits and thank you tote bags.
Guide to Creating Welcome Kits
HOW TO EDIT IN MEDIA VALET
Your complete guide on editing in Media valet along with links for
editable templates, a video tutorial and a step by step instruction manual to
help you create your own event and social media flyers in quick and easy steps!
CLICK HERE TO GET STARTED
How to use Calendly
These short step- by- step video tutorials will help you get
started and gain basic understanding of how to use Calendly
Now let's create some fun events on Calendly!
Click here to get started
Still have questions?
Visit The Marketing Hub
Our primary Sharepoint resource for marketing and enrollment questions!
Let's Go